Sukiya-zukuri 数寄屋造り, is a Japanese residential architectural style. 'Suki' means refined, well-cultivated taste and delight in elegant pursuits. The Suffix 'Do' means 'the way, path, or road'. Sukiyado can be translated in 'the way of elegance'.

Designing and building Japanese architecture, interior and furniture is not an easy task. Unlimited dedication, craftsmanship, patience, and study of the traditional crafts and materials are a must and required. Sukiyado, design, advice and construction of custom built Japanese architecture, interior projects and furniture for commercial and residential clients.

⛩ Please understand this website is in progress and we will list many other exiting projects here from now on.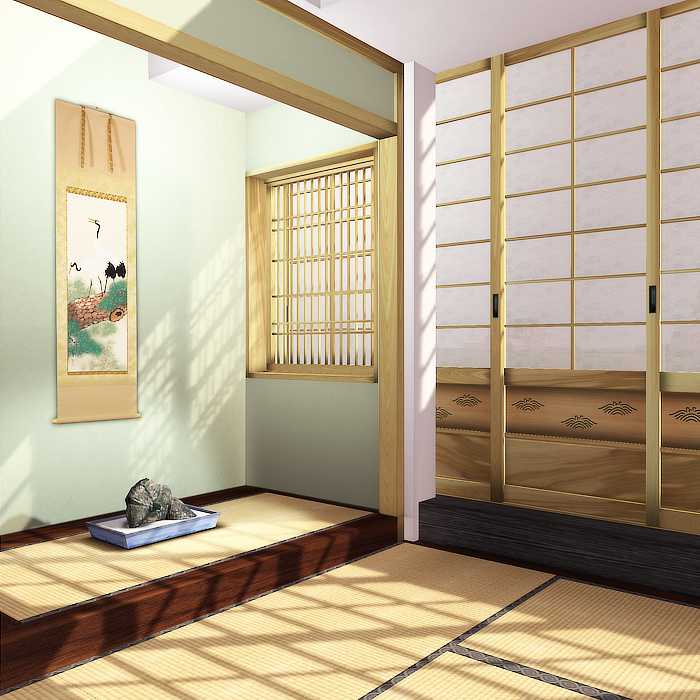 Residential
From tatami room, Washitsu, and personal retreat. Sukiyado designs, builds, and installs complete traditional Japanese rooms and furniture in your home and business throughout Europe.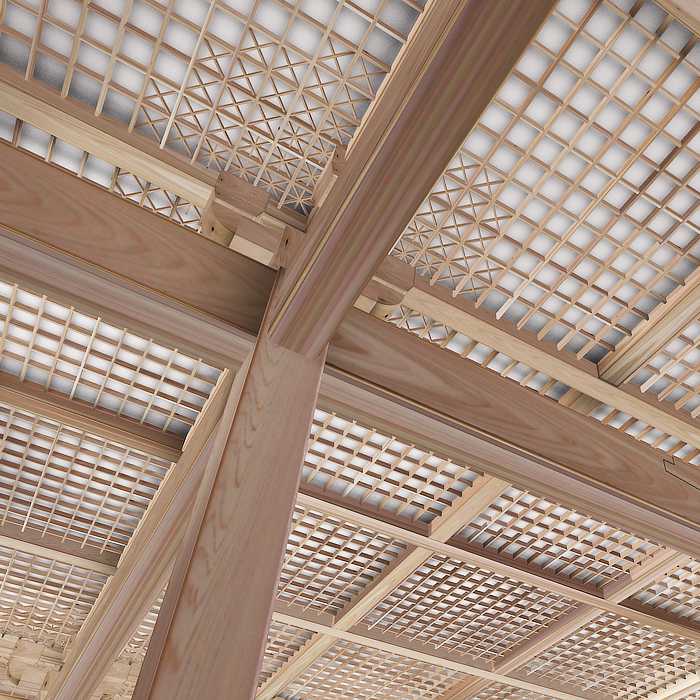 Commercial
Design and execution of commercial Japanese interiors for restaurants or office spaces are also covered by Sukiyado. Think of interior design based on authentic Japanese style and atmosphere.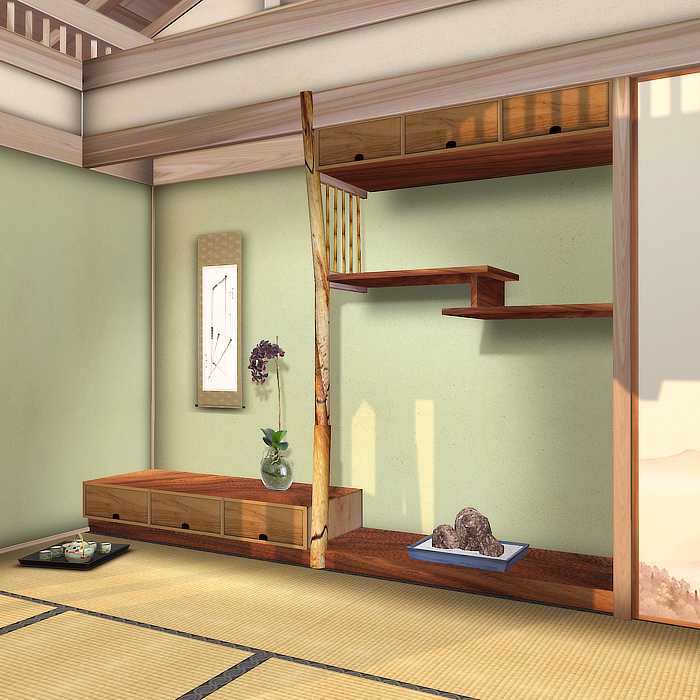 3D Immersion
All projects are designed and proofed within an immersive 3D environment to make sure every element of the interior will match the customer's needs, before production and installment.
Briefing and Design 企
Custom Built Chashitsu
Designing and building a Japanese Chashitsu, Tea house, featuring a Tatami floor and traditional Tokonoma
Sukiyado was asked to design and build a Japanese-style Chashitsu, Tea house with a narrow veranda, or Engawa, featuring sliding doors on two sides, a Tatami floor, and traditional Tokonoma. Furthermore, the Tea House should be fully insulated, the roof should have original Ceramic Japanese Kawara roof Tiles. The floor should be covered with Tatami and special storage should be created to store all sliding doors during summer days.

Because of the shortage of space at the left and the back of the Chashitsu, the eaves were shortened. This was not a problem because the building is situated in a corner. The small building was designed in the Sukiya-zukuri style. The built-in recess, Tokonoma, features two sets of drawers and traditional Staggered shelves, or Chigaidana, The Tokonoma is 'divided' in two parts by a small bamboo window.

During the design process, a many changes and additions were made. To give the front of the Chashitsu a more interesting appeal, a protruding window with latticework, Degoushimado, was added. The design was made in a 3D environment. One of the benefits of designing a project in a dedicated 3D space is, the customer can 'look over our shoulder', during design. Also the result most of the time matches exactly with the design.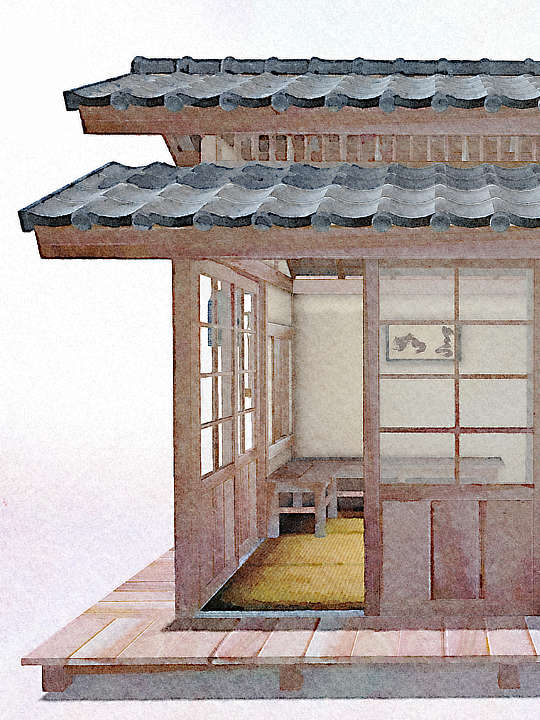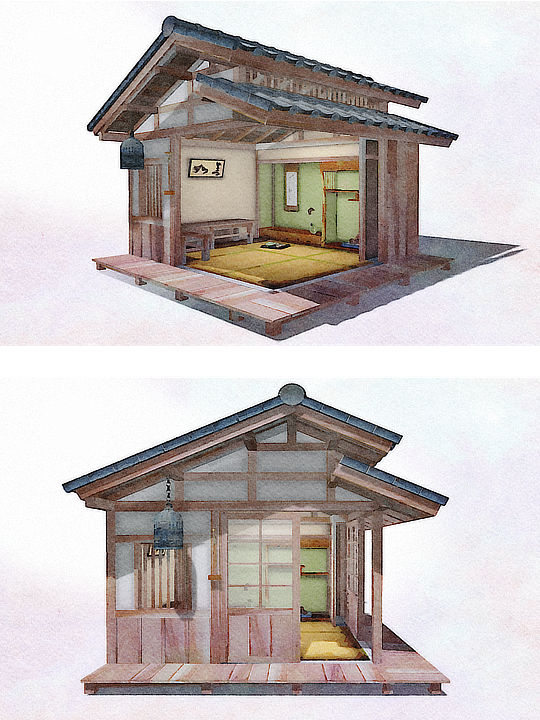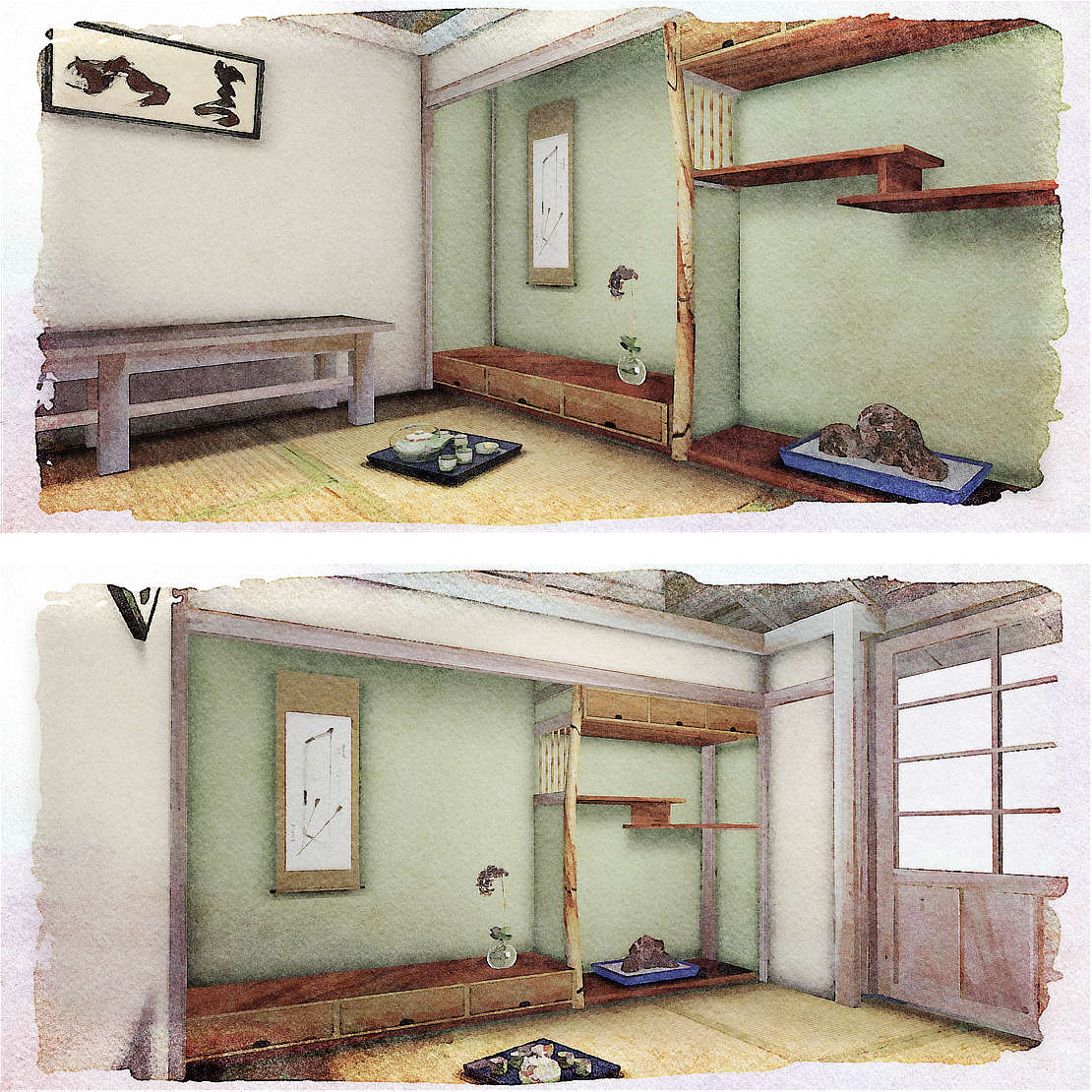 Construction 建築
Custom Built Chashitsu
Prefabricating of the complete Chashitsu in the Sukiyado Workshop
The Sukiyado Workshop 工房, is run by two very skilled carpenters, Sukiya-daiku 数奇屋大工, that are responsible for all indoor and outdoor Japanese carpentry. Working at the Sukiyado Workshop means you will need to continuously study and improve yourself. This is why our skilled carpenters are able to take on any job. A project like this, creating a true Japanese Washitsu requires thorough knowledge and skills, both about materials, wood species, fabrics, and traditional Japanese tools.

Although this Chashitsu is not very big, 260 x 260 cm inside, it took up a lot of space in the Sukiyado Workshop. After carefully converting the 3D drawings into technical drawings the first step was to build the Traditional Japanese Post and Beam Timber Frame. Next, the wall elements were built. The wall elements consist of Board and Batten, Tate-Itakabe 竪板壁, on the outside, and waterproof plywood on the inside. The white parts are covered with a High-Pressure Laminated sheet and mimic Japanese plaster, Tsuchikabe 土壁. This material looks great and is very durable and dimensionally stable.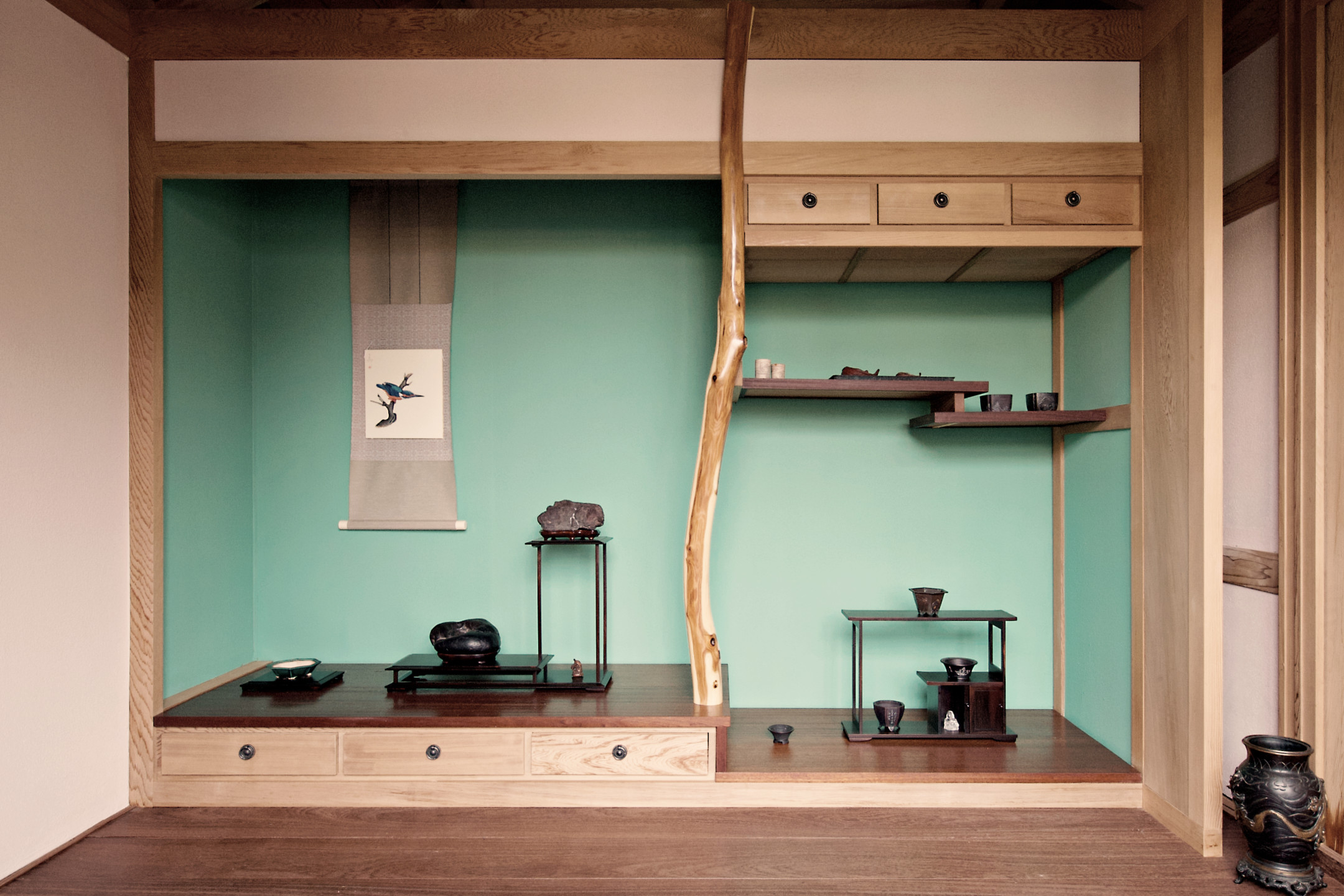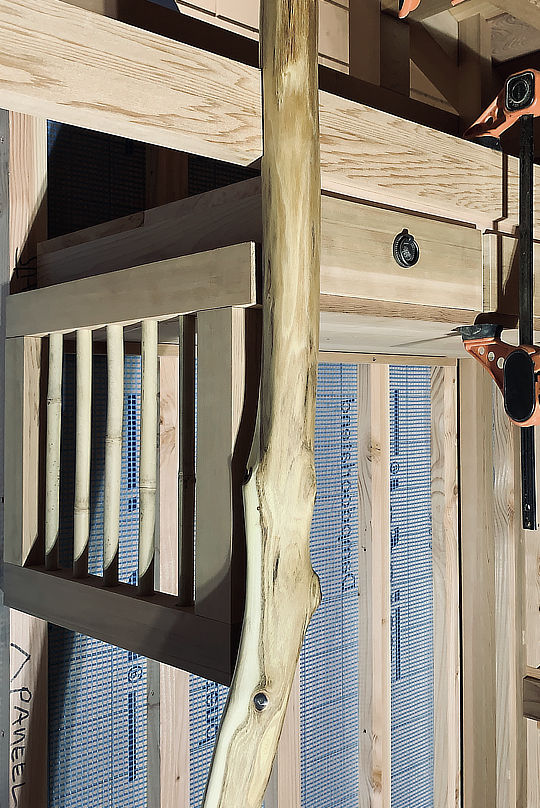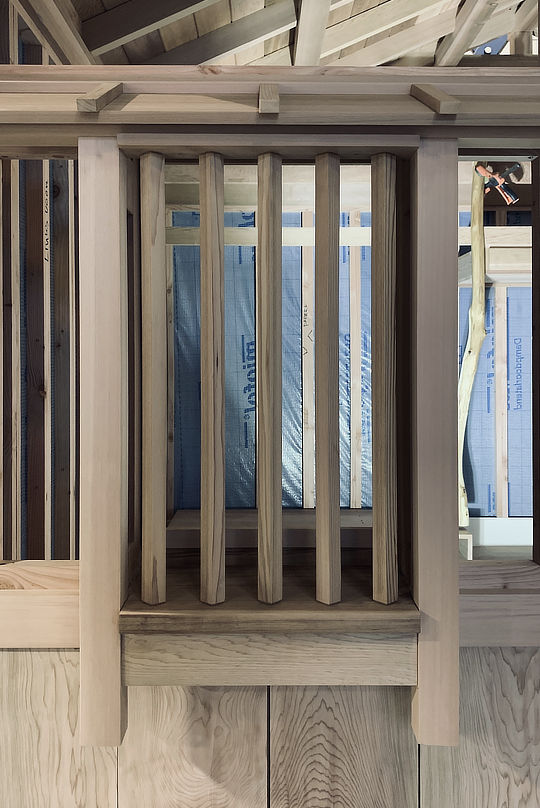 Materials 用材
Custom Built Chashitsu
Wood species and materials used in a traditional Chashitsu
The 4 sliding doors were fitted with safety glass and can be taken out and stowed away in a special storage space. At the front left a Japanese-style protruding window with latticework, a Degoushimado 出格子窓 was added. At the front and right of the Chashitsu a narrow veranda, or Engawa 縁側 was created. The complete building was built with Western Red Cedar, the closest wood to Hinoki, or Japanese Cypress. For the Veranda and the inside floor, we used Cumaru, a tropical hardwood.

Inside a full-blown traditional Japanese Tokonoma was created including the Tokobashira 床柱 and Chigaidana 違い棚 featuring two sets of drawers. The Tokobashira 床柱 is built from a natural tree trunk of an Acacia tree. Acacia wood has a very nice color and texture. The 'tops' of the Tokonoma are built from Mahogony wood. The tralliswork, 'window' in the Tokonoma is made with natural bamboo. The inside walls were finally painted a soft green, with a quartz-based paint to mimic Japanese plaster, Tsuchikabe 土壁. All wood except the Mahogony, Acacia, and Cumaru are untreated. The special woods are treated with natural oils.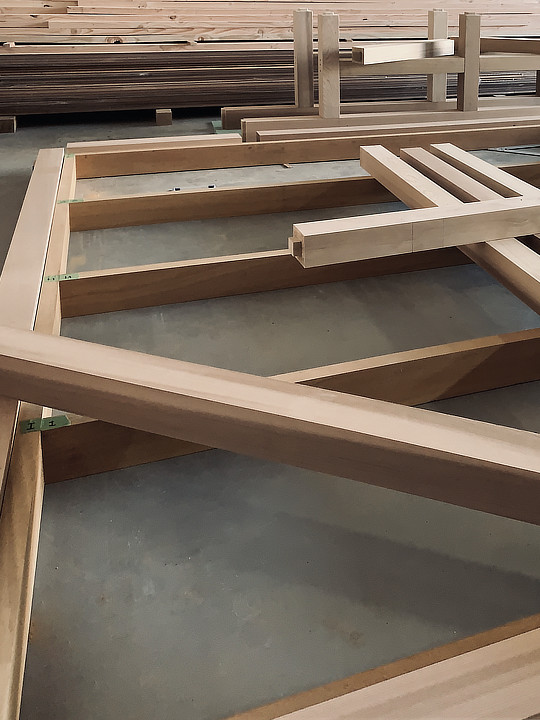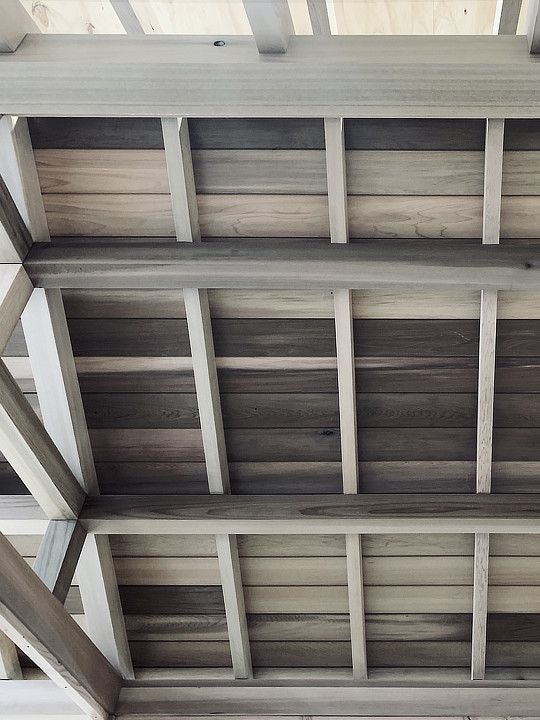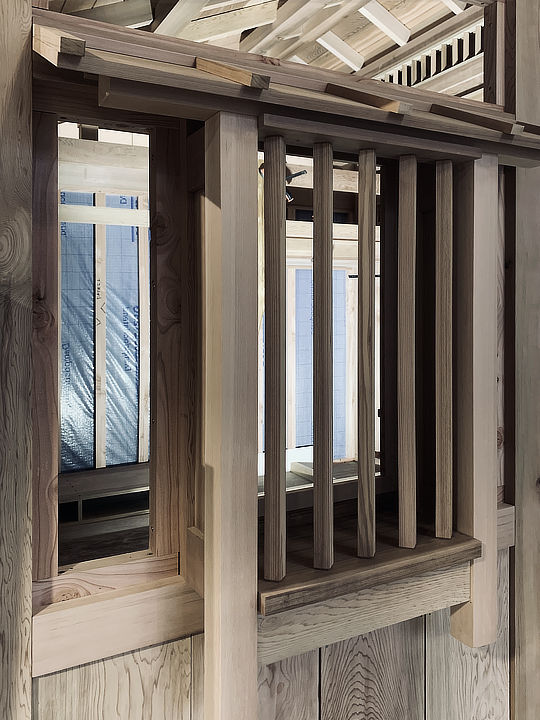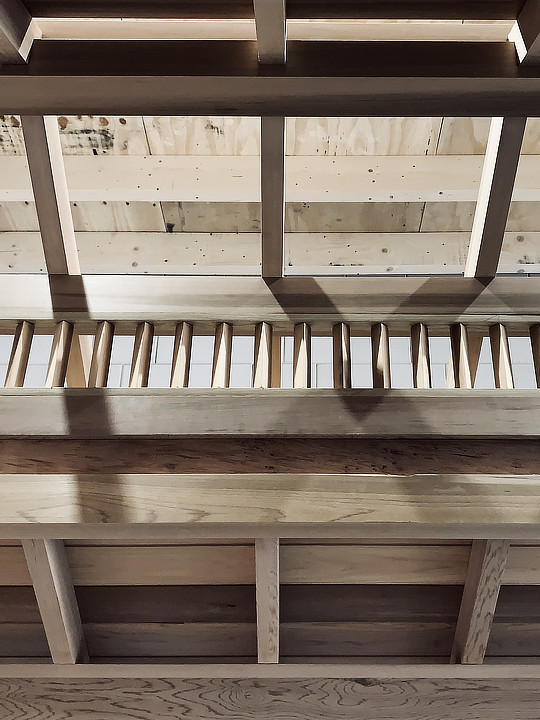 Glossary
Board and Batten, Tate Itakabe 竪板壁
Latticework, Koushi Irimado 格子入窓
Protruding window, Degoushimado 出格子窓
Japanese tea house, Chashitsu 茶室
Staggered shelves, Chigaidana 違い棚
Covered veranda, Engawa 縁側
Japanese plaster, Tsuchikabe 土壁
Main pilaar, Tokobashira 床柱
Sukiyado is an extremely versatile company
Please feel free to send us your inquiry. Sukiyado provides dedicated design and execution of high level Japanese interior projects, furniture and elements. Think of traditional Japanese Tokonoma 床の間, Washitsu 座敷, Tatami floors 畳, Japanese sliding doors 舞良戸, Shoji 障子, Fusuma 襖, Beds 褥, Futons 褥, Teburu 机, Tansu 箪笥, Andon 灯, etc. Please note, Sukiyado can also provide a broad range of Japanese antiques and decoration.

Next to architecture, we also specialize in authentic Japanese landscaping as Yokoso Japanese Gardens. We can provide Japanese garden designs, professional construction, and have our collection of ornaments, rocks and decorations imported from Japan.